Upcoming Reviews
November 04, 2020
Synopsis
Being a mermaid brings a new depth to 'it's complicated.'

High school teen Mariah's life is anything but simple. Between a crush on her best friend and a rivalry brewing with the swim team star, her powers awaken early.

When Mariah's guardian meddles in her life with magic, she causes more harm than good. The soul reapers are coming and there's a werewolf hungry for merblood. All secrets wash ashore sooner or later, and Mariah's about to discover hers.

Mixing a messy love life with deadly powers will whip up a storm of trouble. Can Mariah contain it or will she be swept up in its wake?

A gripping story about a mermaid, self acceptance, and romance that literally sparks.
AUTHOR BIO

Ally was born in London but grew up in Suffolk which is where most of her YA Fantasy novels are based.

She is happily married to her high school sweetheart, and together they are raising two cats, their son and daughter.

When Ally is not writing (or at her day job), she loves spending time with her family at the local beach, in the forest or watching way too much Netflix.

Ally loves a cup of tea and has been known to order one on a night out.

Join Soul Heart Readers FB Group: https://urlr.me/wKjBb

Excerpt : Powers
My blood began to boil... except the bubbling felt more like a tingling. Didn't he have any compassion for what he was doing to Jace and I? The angry current coursed through my veins. So charged, I felt a need to defuse. I threw my hands in the air and screamed.

"Mariah-," Mum began but stopped.

Dramatically, the sky lit up like a stormy backdrop to my anger. Lightning pitched down from the sky and hit the lorry, cutting the engine out. The black cloud moved in to darken the before clear sky. The first plop of rain sent a chill through my cotton t-shirt. In no time, the sky was emptying buckets of rain.

"Temper, temper," Jace teased.

"Quick!" Mum yelled over the rumbling sky as it began to chuck it down, "Everyone inside."

We ran in. Denny invited the removal men to take shelter in our home with the promise of sampling their famous Sparkle Cakes and a brew.

As Jace and I were about to run up the stairs, Mum pulled me to one side.

"Are you okay, Mariah?"

"What do you think?" I snapped at her stupid question.

She tugged on my sleeve. "You must stay in control of your emotions."

I shrugged her off me and hurried up the stairs with Jace. In my room, we revelled in the storm's blessing of extra time together. I grinned, pleased with myself as if I had caused the storm.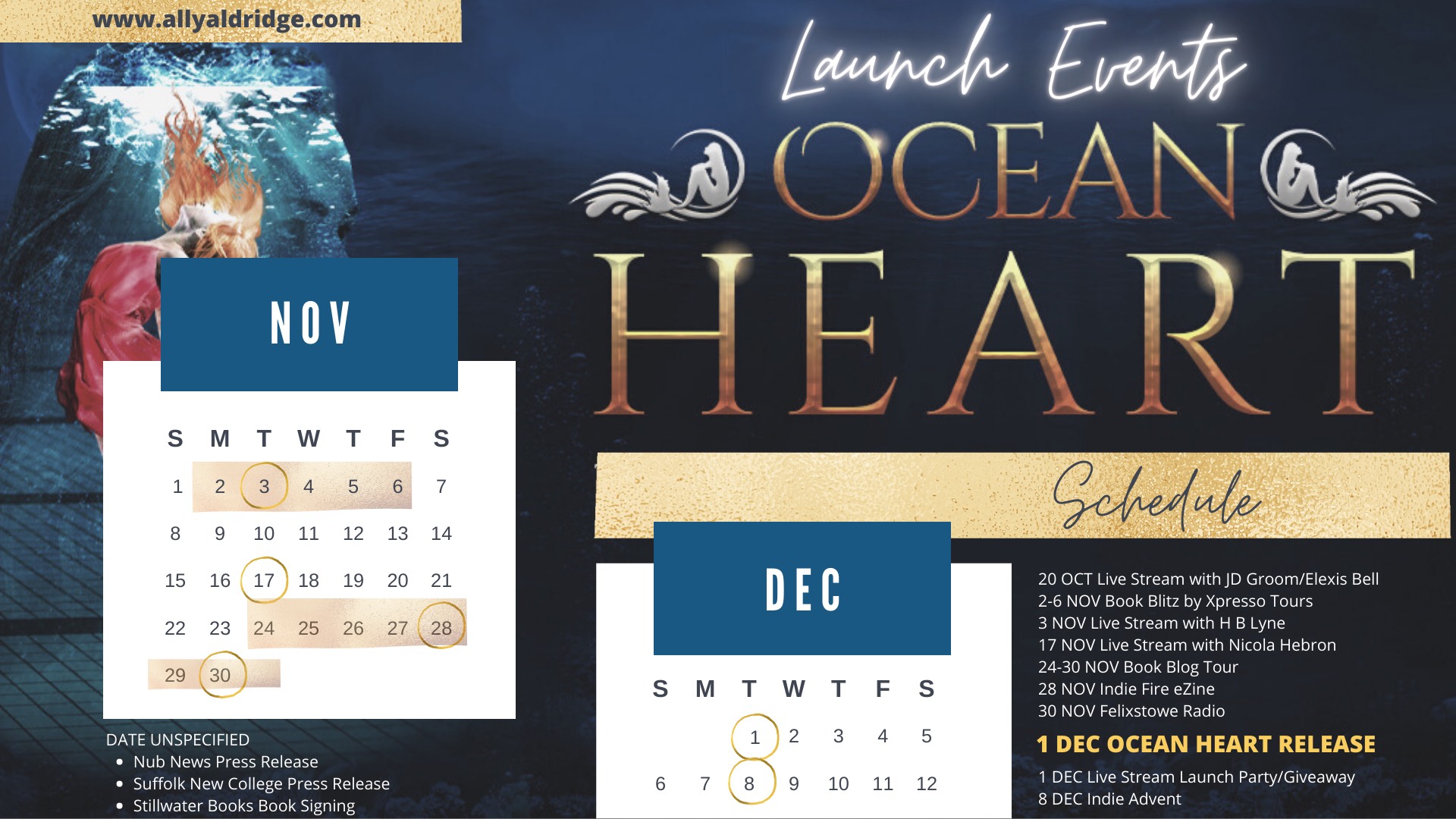 Excerpt : Magic (Ana)
I sighed. "I'm trying to avoid Murray."

"Are you really?" Ana said in an over-inquisitive way that told me she knew more than I thought.

"What do you think you know?" I asked as my eyebrows raised.

Ana's face lit up. "I heard Murray's taking you to the dance."

"That's what he thinks, but I'm not going."

"Why not? He's hot."

I rolled my eyes. "And super arrogant."

Ana shrugged. "It's confidence."

"Are you on his side or mine? Plus, Mum warned me to stay away from him and the pool."

I blushed, realising I'd said too much. Now Ana would think I'm crazy when I explain about Mum's visions.

"So? What does it matter what your mum says? She can't stop you."

Ana didn't get why I was taking Mum's warning seriously. She hadn't seen her magic or the way her predictions came true.

"She's a psychic. She wouldn't have warned me unless something bad is going to happen. I mustn't let him kiss me." I blushed deeper as soon as the words came out of my mouth.

Ana squealed. "Your mum had a vision of you making out?"

"Ana, please. And, she could stop me. She's a frigging witch."

"Does she cast spells?" Ana's eyes widened.

"Sometimes." I wish I could shut up.

"Hold up! Do you cast spells? Like a witch -like a wizard - like Harry fucking Potter? Oh my god, that's so cool!"

"Ana, keep your voice down!"

Ana bit her lip to suppress her excitement. "Can you teach me magic?"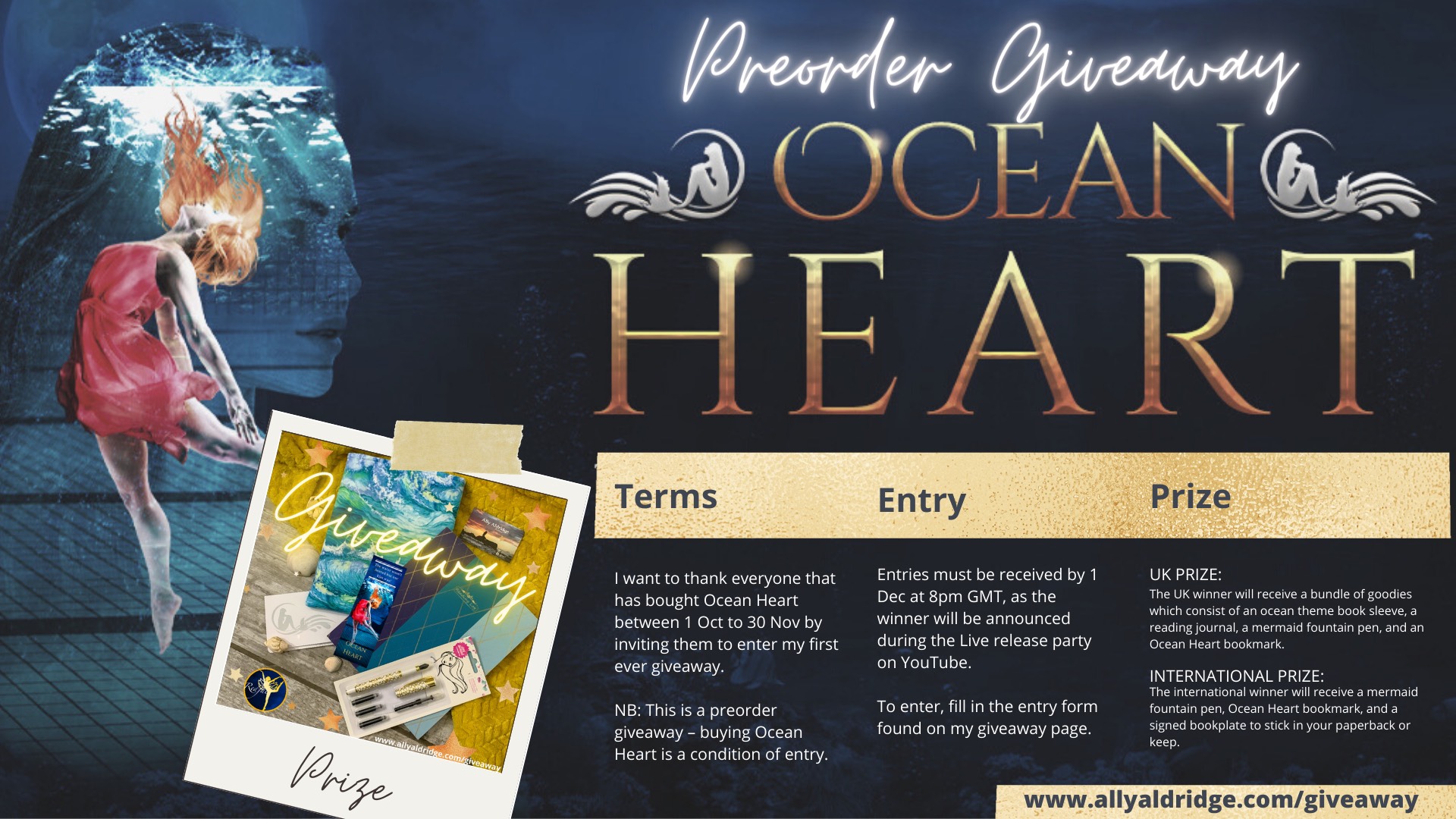 ↘️ GIVEAWAY! ↙️
Blitz-wide giveaway (INT)
To thank everyone who orders Ocean Heart between 1 Oct and 30 Nov, the author would like to offer them the chance to win a bookish prize of goodies.
There is a UK prize and an International prize. The winner will be announced live on 1 Dec at 8pm GMT, during her launch party on YouTube:
https://youtu.be/Ho6J-PQTvvI
Full details and entry at:
www.allyaldridge.com/giveaway