Upcoming Reviews
December 14, 2020
Synopsis
My next door neighbor Parker Jax is not my type. He's covered in tats, rides a motorcycle, and his parties keep me up all night. The fact he's sexy as sin doesn't change the fact we are oil and water.

I'm a quiet artist. He's a rowdy marine. I've got a broken heart. I'm convinced he doesn't have a heart at all.

Thankfully, my bad-boy neighbor is on leave from the Marines for only thirty days. But then the jerk has to go and show me that he has a soft side beneath all those hard muscles. He actually leaves his own party to help me, and he didn't even have to.

Fantastic. Now I owe him.

I'm not worried, though. What are the chances he'll need me to do anything before the month is up?

But when a woman shows up with a kid at her side, knocking on Parker's door, it turns out those chances are pretty good…
AUTHOR BIO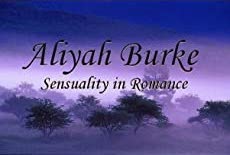 Aliyah Burke is an avid reader and is never far from pen and paper (or the computer). She loves to hear from her readers and can be reached at http://aliyah-burke.com/blog/contact/

She is married to a career military man, they have four Borzoi. Her days are spent sharing her time between work, writing, and dog training/showing.
Excerpt
"She doesn't need any help moving wood. If it has to happen, I'll handle it. Like I've been doing."

That deep reverberating voice tore through the flimsy barrier she'd pretended she'd erected while staying away from him for the afternoon.

"And you are?" Dr. Morse asked.

"I'd be the fiancé." Parker stared at her, looking like he just walked off some sexy tattooed man cover.

Instant heat hit her, making her knees weak and her mouth dry. It's not fucking fair. Even now, right here, there wasn't any way to ignore the pull he had on her. Not just on her hormones, but her.

"Interesting." Dr. Morse reached out his hand. "Dr. Morse. I'm sorry, I had no idea Skylar was engaged." He made a pointed look down to her left hand that was suspiciously empty of a ring.

Parker drew her close to his side, which happened to be the one of Parker's furthest away from her doctor. His fingers flexed along her waist, but the smile never left his face. "You know Skylar, she's not one who likes the limelight. We're keeping it quiet until my woman here, picks a date." Only then did he shake the man's hand.

He kissed her temple and she stewed but kept her mouth shut. He wasn't playing by the rules, but then, she shouldn't have expected him to do so.

"I didn't know you were coming to the doctor today, baby. I would have brought you."

She forced a smile into her tone. "I thought you were busy and didn't want to concern you. Just a checkup on my hand."

"I see."

Skylar had no doubt he saw far more than she wanted him to about that matter.

"We can get lunch on the way home. I had to take Mrs. O'Neary to a bridge game, so I swung by here after I dropped her off and did my physical therapy." Parker looked back to Dr. Morse. "I'm sorry, we should get going, I'm sure you're a busy man. Thanks for fixing up my woman."

Not a single person in that room missed out on the utter proprietary claim Parker put on her with that statement. She swore every one of them also turned to look at them. Dr. Morse, thankfully, just gave a patented smile and pushed his hands in his lab coat.

"Just doing my job." He dismissed Parker. "I meant what I said back there, Skylar. Take it easy. Call and set something up if it starts hurting again. Your knuckles will be sore a bit longer but at least they're not broken."

"Thank you," she said.

Parker's grip on her clamped down when she tried to move away from him. The moment they were outside, she tried once more to put some distance between them. Again, only to be denied.

She saw her truck there and reached for the driver's door only to stop when he snorted and drew her back by him.

"Woman," he growled. "You're not driving. And when we're on the way you're going to tell me what the fuck is going on that you had to get back to the doctor."

And that way of saying woman, still had that ability to turn her into a small pile of mush.

He opened the driver's door and lifted her to the seat.

"This is my truck," she protested.

He cocked a black brow in her direction, a taunting smirk on his face. "Keys are down the front of my pants, want to go after them?"

Hell yes. Her grin more feral than anything. "Aren't you afraid something down there is going to be jealous with the keys outsizing them?"

His eyes, more green than blue right now, blazed with heat.